Interested in booking a private event? Check out the options available on the Private Events page.
Saturday, April 28 at 10:00 AM
Sensorium Series Can Release - Heroes & Voyagers
These cans will be released exclusively in the MadTree Taproom with no cans going out to distribution. Total quantities packaged will be limited to approximately 100 cases of each, depending on final yields. Purchase limits will be announced shortly before the release date. Four-packs of 16oz cans will be $17.50 each. A limited amount of draft will be available by the glass at the release (sorry, no growler fills).

MadTree has collaborated with local non-profit, Neusole Glassworks, to create 50 handmade custom glasses to pair with these beers that will be available for purchase on release day for $10 each. The glass blowers from Neusole will also be on-site demonstrating glass-blowing techniques and artistry. A portion of the sales of all Heroes and Voyagers four-packs will be donated to Neusole Glassworks.

HEROES - DOUBLE DRY-HOPPED UNFILTERED IPA
Malts: 2-Row, Oats, Red Wheat, Caramel 40L, Carapils
Hop Additions: Citra, Mandarina Bavaria, Idaho 7(Flameout, Whirlpool, & Double Dry Hop)
Total Pounds Hops per BBL:  Over 4lbs per barrel
Fining: Unfiltered
Yeast: Conan
Tasting Notes: All the juicy fruit hops with none of the harsh, lingering bitterness. With a hazy, orange color, Heroes is an easy drinking IPA exploding with notes of citrus and stone fruit in every sip.

VOYAGERS - BERLINER-WEISSE
Malts: Pilsen, White Wheat, Carapils
Hop Additions: Summer, Mosaic (Whirlpool and Dry Hop)
Adjuncts: Real Peach puree (420 lbs), Real Apricot puree (420 lbs)
Inocula: Lactobacillus delbrueckii during kettle souring process
Yeast: American Ale
Fining: Unfiltered
Tasting Notes: Like biting into a fresh, juicy peach, this Berliner-Weisse is bursting with flavor. Pouring a pale straw color, this gorgeous beer still packs a punch finishing with a clean palette puckering tartness.
Sunday, April 29 at 9:30 AM
Yoga + Brunch supporting Project Yoga
Come out for free yoga and stick around for an amazing brunch prepared by Catch-a-Fire Pizza. Classes are free, but donations to Project Yoga are gladly welcomed. They help sustain over 15 classes to at-risk and underserved people in our area.

If you haven't had Catch-A-Fire brunch then you are missing the best-kept secret in Oakley! Stick around for brunch!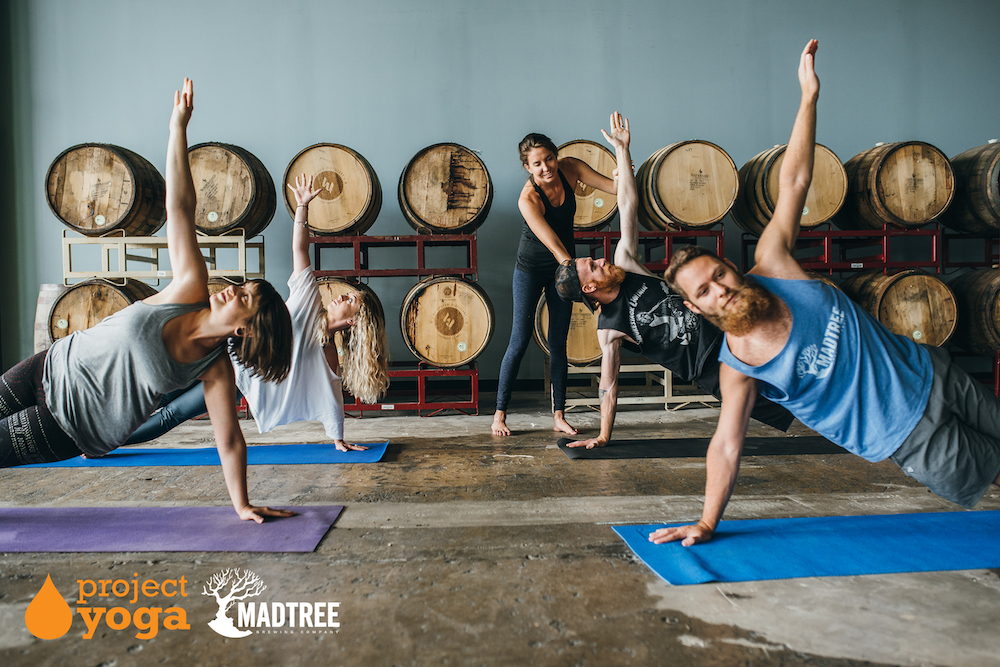 More Info
Tuesday, May 1 at 4:00 PM
Ping Pong Tuesdays
Join the Cincinnati Table Tennis Meetup on Tuesdays for the weekly social match. We will have multiple tables set up and players of all skill levels are welcome. Bring a paddle and extra ping pong balls if you can. They play doubles, round robin, and individual matches. It's a great way to learn the sport or just have fun.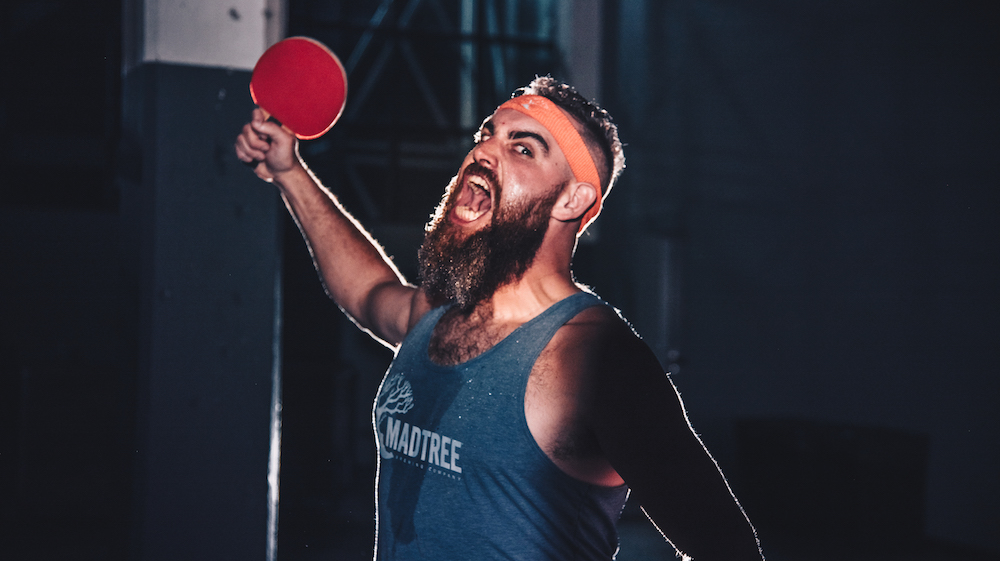 More Info
Sunday, May 6 at 10:00 AM
Gears and Beers: Presented by Enthusiast Auto
Gears and Beers is BACK for 2018! This year, we will be featuring different sponsors who make donations to non-profits with a MadTree connection.

For this first event, Enthusiast Auto Group is the presenting sponsor supporting Cincinnati Community ToolBank.

All are welcome! Drive your favorite ride from exotic to garage project to hang out with like-minded automotive enthusiasts. Deeper Roots Coffeewill have cold and hot coffee available until noon, Catch-a-Fire Pizza will have their brunch menu available until 2pm, and there will be plenty of beers to enjoy (responsibly).

This is a rain-or-shine event.

More Info
Wednesday, May 9 at 6:00 PM
Toyota Dealers FC Cincinnati Fan Show
Beer and Soccer; What a great combination!

Mo Egger and Tom Gelehrter are back for the Toyota Dealers FC Cincinnati Fan Show. The broadcast will be live from 6:00p - 7:00p on ESPN1530. Come grab a beer, take an in-depth look at the team, and ask some questions of Tom, Mo, and their guests!
Sunday, May 13 at 10:00 AM
Mother's Day Brunch
Treat mom to a special brunch catered by Catch-A-Fire Café to show your appreciation for what she does all year long. One drink is included with each adult ticket and additional alcoholic drinks are available for purchase. Seating begins promptly at 10AM when the bar opens and appetizers are served. In addition to great MadTree beers, wine and champagne will also be served.

PRICE
Adults: $50
Children: $10

BRUNCH MENU
Signature pastries & scones
Fresh fruit
Coffee and assorted juices

Amuse Bouche
Early Grey profiteroles with blood orange gastrique

First Course
Baked orzo with egg, bacon, spinach, and feta

Main Course
Wood-fired salmon with charred grapefruit, avocado, and cabbage slaw

Dessert Course
Lemon lavender pavlova with mixed berries

KIDS MENU
First Course
House Pop Tart

Main Course
Cheesy egg casserole with bacon & redskin potatoes

Dessert Course
Blondie brownie

More Info